Standard Corrugated Products

Our standard corrugated products are used in a variety of applications and industries. We are in the old economy with protective covering for wire harnesses and rubber hoses. We are in the new economy as fiber optic cable conduit. We provide secondary containment for underground gasoline lines and we insulate HVAC lines. Our applications are as endless as your imagination.

Underground Conduit
This larger-diameter product is offered as a single- or dual-wall construction. The single wall construction is a strong, flexible, conduit for a variety of underground or above-ground applications in areas such as fiber optics and underground electrical lines. The dual wall construction has a smoother inner wall that allows for easier installation without kinking. Both of these products are available in a variety of colors and with or without pull tape.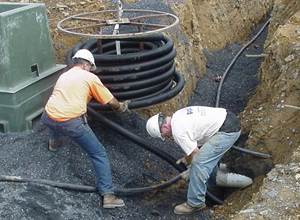 Need a large diameter or underground conduit? See our Large Diameter/Underground Conduit Dimensional Chart.
Need a special material or unique corrugation design?
See our Engineered Corrugated Tubing Section.
OEM/Miller Our team is committed to your success!
1300 Danner Drive • Aurora, Ohio 44202 • Phone: 330-562-2900 • Fax: 330-562-7635