Corflo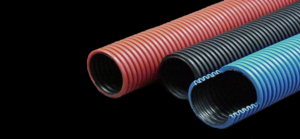 Super Corflo® is a dual-wall coilable polyolefin duct, and is the economical choice for conduit and inner duct applications. The dual-wall design offers a light-weight, easy to handle conduit system with an increased crush-resistance, and a semi-smooth inner wall for ease of cable pulling. Offered in standard black 250 ft. coils, Super Corflo® is also available in other colors, lengths, and with pre-installed pull tapes.
Specifications
Sizes: 2″, 3″, 4″
Cut lengths: Standard 250′  (other lengths available at request)
Other: Flexible, semi-smooth inner wall, compatible with other systems.
Applications
Underground Residential Distribution
Street & Highway Lighting
Substations
Transformer Vaults
Secondary service runs
Direct bury
Open trench
Plow-in
Concrete encasement